MMB147A 3pc Motor Mounts fit 4WD 5.3L 2007 2013 Chevy Silverado GMC Sierra1500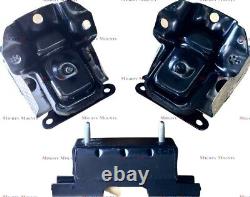 4x4, 4WD, AWD 2007 2008 2009 2010 2011 2012 2013 2014 complete 3 piece set motor mounts for All Wheel Drive 5.3L 6.0L 6.2L Full Size Truck & SUV Cadillac, GMC and Chevy. This set will fit specifically Chevy Silverado 1500 and GMC Sierra 1500 2007 - 2013 v8 with Automatic or Manual Transmission. MightyMountsOnline STORE is HERE to Service YOU 24/7 365 DAYS! CUSTOMER SERVICE HOURS (Pacific Standard Time). Just SEND US A MESSAGE.
We are committed to your satisfaction. Please take the time to leave us a FIVE STAR FEEDBACK. Photos and product numbers are representation of product interchangeable NUMBERS.
Periodically, the VEHICLE CATALOGS from the manufacturers MAY BE ERRONEOUS. We are not responsible for items in transit. We DO NOT WARRANT PRODUCTS against misuse, abuse, off-road testing, and improper installation.
We are not responsible for any consequential, incidental, special, or exemplary damage resulting from failure of this product and from failure of other products.

---