Speedway 1955-57 Fits Chevy Car Fits V8 Motor Mount Kit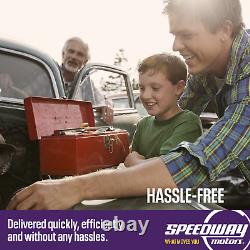 Motor mount kit allows you to side-mount 1958-up S/B Chevy 283-400 c. Speedway 1955-57 Chevy Car V8 Motor Mount Kit. Side-mount motor mounts are a more rugged mount design than the original front mounts found on your Tri-Five Chevy, plus they allow more room for front drive accessories.
Our motor mount kit allows you to side-mount 1958-up S/B Chevy 283-400 c. V-8 engines into your 1955, 1956, or 1957 Chevy passenger car. Will also work on 396-454 big block engines. Includes frame brackets, engine brackets, rubber mount cushions, hardware, and instructions. By 55 and Alive on January 27, 2022.
Have not installed yet, due to cold temperatures. Directions look good, easy to understand good photos.
Should not have a problem with installing. Yes, I recommend this product. Parts I ordered and received fix good no problems. By RICK on April 26, 2021.
Parts arrived like you said. Parts I received fit good. By Scott from Germany on April 07, 2021.
The product is very well constructed, sturdy, comes with all the hardware you will need. By Roger Glass on January 19, 2021. To put later v8 I 1955 chevy. By Phil on February 06, 2020.
I was just barely able to locate and drill out the mounting bolt holes with a SBC still in place. The supplied rubber cushions are pretty thick and raised the motor 1/4-3/8 inch from where the old worn out front mounts and trans bellhousing mounts had the motor sitting. I'm sure the rubber will settle in time to come down just a bit also.
The only thing is they supply grade 5 hardware and I prefer grade 8 for something like this. Related Items / Suggested Parts. 1955-57 Chevy Tri-5 Transmission Crossmember, Bolt-In, Steel. Speedway Motors is America's Oldest Speed Shop® and has been a trusted source for specialty rodding and racing products and friendly expert advice for more than 71 years.

---