Trans-Dapt Performance Products 4238 Engine Mount Pad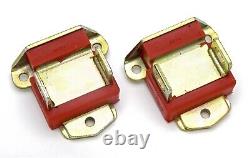 Trans-Dapt Performance Products 4238 Engine Mount Pad. Engine Mount Pad; Steel/Polyurethane; Pair.
Polyurethane Material Holds Up Longer Than Rubber. Polyurethane Life Expectancy Of 8-10 Years. With Willie's philosophy of providing a wide selection of quality products at a fair price, Trans-Dapt soon became THE company to call, whenever you needed a transmission, carburetor or oil filter adapter, and within just 4 years, the two man shop in a garage was filling up 40,000 square feet of office, warehouse and manufacturing space. In 2009, that will be 50 years ago... Today, Trans-Dapt Performance Products, which is now part of the Hedman group of performance companies, resides in a 100,000 square foot facility using the latest in CNC machining and CAD design to ensure that Willie Garner's philosophy of providing quality performance parts is not compromised.
Processing begins as soon as an order has been placed, therefore we cannot change, cancel or modify orders once they have been confirmed.

---